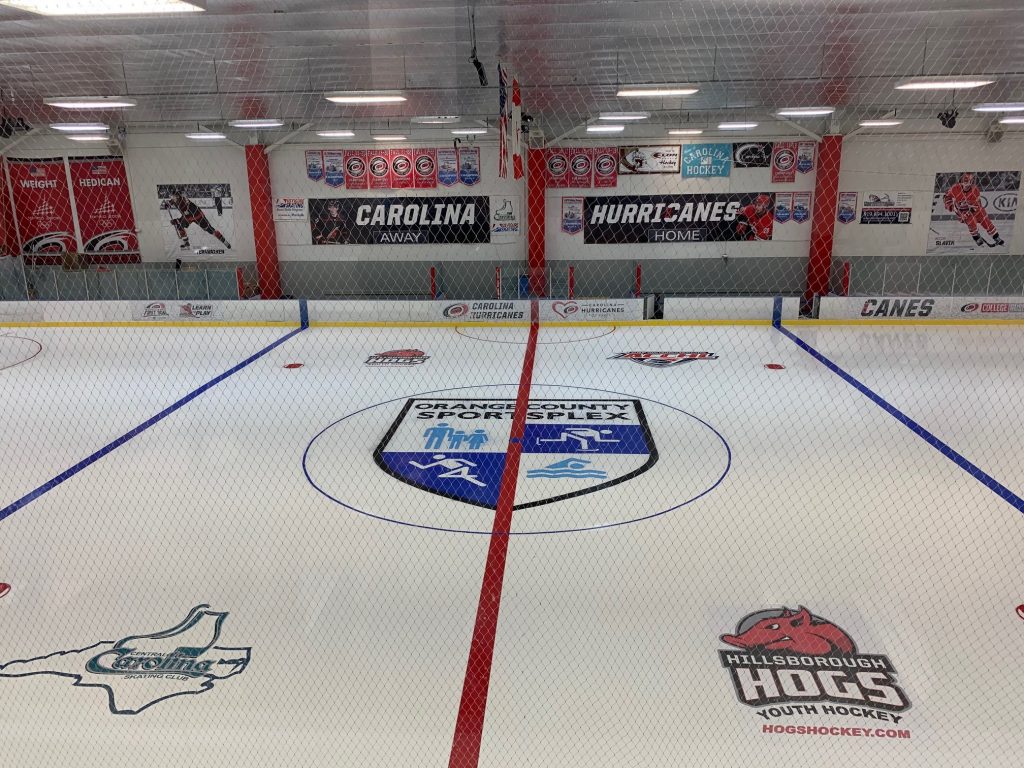 Our regulation size ice rink is home to Public Skating, Adult Hockey Leagues, Sportsplex Hockey Academy Camps and Classes, Youth Hockey Teams,  Learn-to-Skate Classes, Figure Skating, Synchronized Skating, Broomball, and Private Lessons. We are the home rink to hockey teams from Triangle Youth Hockey of NC ("Hillsborough Hogs"), UNC, and Elon University! We are also the home ice rink to Carolina Ice Synchro, Central Carolina Skating Club, Carolina Thunder Youth Travel Hockey, and Triangle Adult Hockey League. If interested in setting up a private ice rental for hockey, figure skating, group skating events, parties, or broomball, please email Assistant General Manager, Kevin Kamenski or give him a call at 919-644-0339 Ext. 239.
We are proud to have one of the largest Adult Hockey Leagues around with four separate divisions to accommodate players of all ages, speeds, and skill levels. We host youth, college, and adult hockey tournaments throughout the year and various hockey camps throughout the summer. Private lessons can be arranged if group lessons are not for you and we have plenty of open hockey sessions throughout the week. All participants in Stick & Puck sessions must wear a helmet. Full hockey equipment required for Pick Up Hockey sessions.
The Sportsplex skating department caters to skaters of all ages and levels. We have classes and programs for those just entering the sport and for those that have skated for years. Beginners of all ages can learn the basics in our Learn-to-Skate Program. We offer Public Skate Sessions each day for you to practice your skills or just to have a good time skating with family and friends.
For experienced figure skaters, the freestyle sessions offer a chance for more dedicated practice and private lessons. Interested in skating with a team? The Carolina Ice Synchro – Synchronized Skating team is always looking for new members.
No matter what your level of interest is, stay cool and come ice skate and play hockey at the Sportsplex!
Interested in Private Hockey Lessons?
Contact Coach Kevin Kamenski for rates and info today!