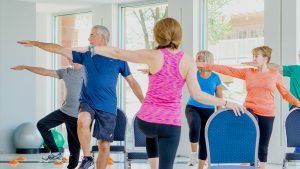 The Sportsplex offers many fitness options for Seniors, including:
Silver Sneakers Cardio:This class will bring heart-healthy aerobics to your workout using low-impact movements. The class focuses on building upper-body and core strength with added cardio endurance.
Silver Sneakers Strength: This class focuses on strengthening muscles and increasing range of movement for daily life activities. Participants can use hand-held weights, elastic tubing with handles and a SilverSneakers ball. Often a chair is used for seated exercises or standing support.
Pacesetters classes: These classes are modified for the senior adult. Classes may include a variety of cardio/balance/strength training. Each day is a different type of class.
Zumba Gold: A modified Zumba® class that recreates the original moves you love at a lower-intensity. The design of the class introduces easy-to-follow Zumba® choreography that focuses on balance, range of motion and coordination.
Chair Yoga: is a gentle form of yoga that can be done sitting on a chair or standing on the ground while using the chair for support.
Aqua Fitness: Classes offer a safe, comfortable, and efficient way for people of all ages, sizes, and fitness levels to get and stay fit. The aquatic environment works nearly every muscle group in one workout, helping to build lean muscle tissue and burn body fat. Exercising in water is very low impact, allowing individuals to participate who might be physically unable to in a traditional exercise environment.
Pickleball: Here at the Plex we pride ourselves on creative and alternative ways to exercise your mind and body. Pickleball combines fitness with friendship. Humor and laughter are common. And the spirit of the game is positive and supportive. An average doubles game lasts about 15 minutes. You don't have to be strong. You don't have to be athletic. Pickleball is not about power and strength, but more about strategy and accuracy. It is a competitive game for experienced players and a fascinating game for beginners.